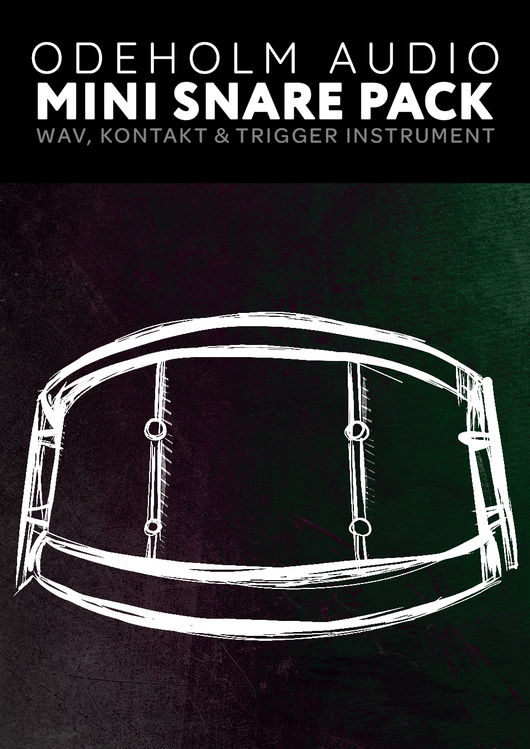 FREE Mini Snare Pack
Odeholm Audio
Regular price $19.99 $0.00 Sale
The little snare library, that packs a lot of punch.

In this pack, you'll find two sought after snares from Impact Drums 1 - sampled and processed by Buster himself.

Each snare comes in four velocities and cycles through twelve variations in both Kontakt 5.5 onwards (full version, not Kontakt Player) and Slate Trigger for an incredibly human feel and performance.

The processed versions are perfect for dropping into your latest metal productions for an instantly massive snare sound that bulks up your backbeat, whilst the raw samples lay the foundations for you to sculpt your ideal tone.

Best of all? It's totally free. 

The Details:
Shells Included:
- JAPAN 5x14 Maple Snare (1 version)
- CALI 8x14 Solid Ash Snare (1 version)
Articulations:
- Hard // Medium // Soft // Ghost
Mics:
- Top // Bottom // Overheads // Room Stereo & Mono
12x Round Robin per articulation.
Included formats:
- NKI (Kontakt V5.5 and up. Run in demo mode only in Kontakt Player)
- TCI (Slate Trigger)
- 24bit, 44.1kHz WAV
Kontakt Compatibility

Requires a full version of Kontakt V5.5 or later. This Snare pack will run in demo mode only if you're using Kontakt Player, although you can work around this by printing the audio before it times out.